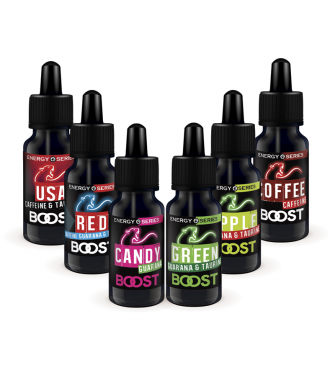 Boost E Liquids 15ml
Composition
- 50% -50% PG / VG
- Caffeine, Taurine, Guarana 100% food grade
- 99% pure and natural Nicotine
- 100% Europeans Aromas
- 0% Alcohol
- Caffeine: 6mg / 15ml
-Propylene glycol (USP- United States Pharmacopoeia)
- Vegetable Glycerin (EP European Pharmacopoeia)
- Distilled water
- No diacetyl, without parabens, ambrox
- Compliant with current regulations
- Made in France

The BOOST range provides you with incomparable fruit flavors, mint and tobacco for a guaranteed boost effect.

Our unique formulations contain caffeine, taurine and guarana pharmaceutical grade and 100% food flavourings offering a wide choice of flavors for each vaper who wishes to increase their energy intake through the vape.

Although the caffeine content, taurine, guarana used in our eliquides are more than 10 times lower than the rates that are found in energy drinks, vapoter Iceliqs BOOST immediately increases energy levels and performance.

All our ingredients are of controlled origin and comply with regulations.