2 x Zap Juice 50ml Multibuy Deal with Free Nic Shots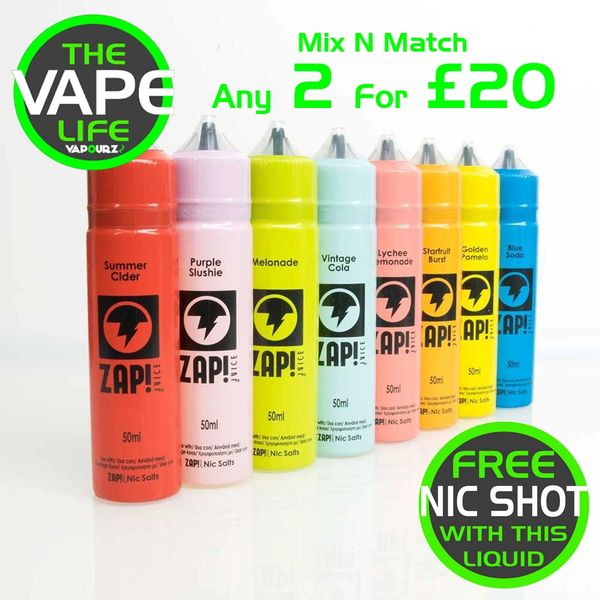 2 x Zap Juice 50ml Multibuy Deal with Free Nic Shots
Flavour Profiles:

Blue Soda – Features a blend of Raspberries and Cream Soda.

Ginger Ale – A ginger flavour that's both sweet with slight bitter notes acts as a base. A fizzy taste follows close behind, it's sugary and has an almost citrus taste, playing well with the ginger.
Golden Pomello – Features the taste of a citrus Pomelo, along with other tropical fruits.

Lychee Lemonade – A blend of Lychees with tart Lemonade.
Passion Fruit Zest – A punchy blend of passion fruit flavour, which while sweet tasting has a ripe finish to it with a citrus flavour added to give this e-juice a tart edge.
Purple Slushie – An icy fruit blend, featuring Grape as its base.

Snow Pear – A distinct fruity taste, as the name suggests it's flavour is based on the snow pear, it has an overall sweet taste, with sour notes on exhale, the two blend to create a balanced flavour profile.

Starfruit Burst – Features a blend of Berries and Mixed Fruits, along with Citrus and Candy Sweets.
Vintage Cola – A mixture of fruits, herbs and spiced flavour-notes to create a vintage Cola taste.

Cherry Cola – Features a classic combination of a sweet and tart cherry on the inhale with a sugary and slightly spiced vintage cola flavour on the exhale.

Lime Cola – A blend of sour and zesty notes balanced with sweet, sugar and spiced vintage cola.

Mango Cola – A tropical blend of sweet ripe mango on the aftertaste balanced with a fruity and vintage cola. 

Peach Cola – Tangy and sweet notes of a peach on inhale with the sugary-spiced taste of a vintage cola.

Raspberry Cola – Perhaps the sweetest from the range by featuring a sweet and slight tart note on the inhale with a deeper vintage cola taste on the exhale.

Vanilla Cola – Rich vanilla notes on inhaling with a sweet vintage cola on exhale